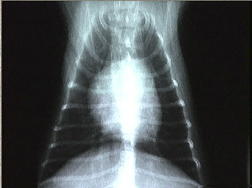 Imaging (ultrasound and radiographs) is an important diagnostic tool for illness workups.  Imaging can help identify the cause of the problem, rule out possible problems and/or provide a list of possible causes. We may also use imaging during a wellness exam to diagnose potential problems before they become serious.
Radiographs (X-Rays)
X-rays provide valuable information about a pet's bones, gastrointestinal tract (stomach, intestines, colon), respiratory tract (lungs), heart, and genitourinary system (bladder, prostate). We use radiology in conjunction with other diagnostic tools.
We are proud to offer digital radiology (x-rays that are captured digitally rather than on film). This technology allows us to provide you with a quicker diagnosis for your pet and involves less radiation than traditional x-rays.
To avoid a blurry image, pets need to remain completely still while an x-ray is taken. In some cases, we may need to sedate your pet or use short-acting general anesthesia to obtain diagnostic x-rays.
Interpretation of radiographs requires great skill on the part of the veterinarian.  In some cases, your veterinarian may recommend a radiology consult.  This is when x-rays are sent (digitally) to a board-certified veterinary radiologist (a veterinarian who has completed extensive training specific to radiology) for interpretation of the x-rays.  We are pleased to partner with a skilled team of radiologists who can provide x-ray consults within a matter of hours if needed!
Ultrasound
The same team of radiologists operate on a mobile basis to perform in-clinic ultrasounds at Blue Sky.  This service can generally be scheduled within a day or two if needed, or sometimes same-day.  Abdominal ultrasound can be helpful at diagnosing a number of disorders since the radiologist evaluates all abdominal organs (stomach, liver, kidneys, spleen, bladder etc.).  Ultrasound can provide more detailed information about many soft tissue structures (i.e. organs, muscles) as compared to x-rays.
Most often, an abdominal ultrasound is ordered, but ultrasound can also be used to evaluate other structures, like the thyroid gland along the neck or evaluating muscles on a leg.
What to expect during an abdominal ultrasound appointment
If your pet is scheduled for an abdominal ultrasound, we request that your pet is
Fasted for 8 hours prior to ultrasound – this means no food by mouth, but water is ok.  An empty stomach will improve the diagnostic ability of the ultrasound.  **If your pet receives regular medications within 8 hours of the appointment time, please call the clinic to see if administration with a small snack is recommended.**
Kept from urinating for a couple hours before the ultrasound, if possible.  A full bladder is preferred for ultrasound evaluation.
Your pet will generally be admitted to the clinic for a couple of hours for his or her appointment.  Prior to the radiologist arriving, our team will prep your pet by shaving hair from the belly.  Hair prevents proper contact of the ultrasound probe with the abdomen and results in poor imaging.  Your veterinarian will then share your pet's history and the current concerns with the radiologist prior to ultrasound.  The ultrasound is performed in a quiet exam room and your pet is placed on its back in a cushioned bed for optimal positioning.  Gel is placed on the ultrasound probe prior to contacting the skin to help with image quality.  An abdominal ultrasound is generally completed within 10-15 minutes.  Occasionally sedation is needed, but this would be discussed with you prior to administration.  Your pet's veterinarian will discuss the findings with the radiologist and then call you to review results and recommended treatments.  A written report will be provided by the radiologist within a couple of days and attached to your pet's medical record.  You may request this report at any time if you would like a copy.
If you have any questions about the imaging services available at Blue Sky or what to expect during your pet's procedure, please don't hesitate to ask.